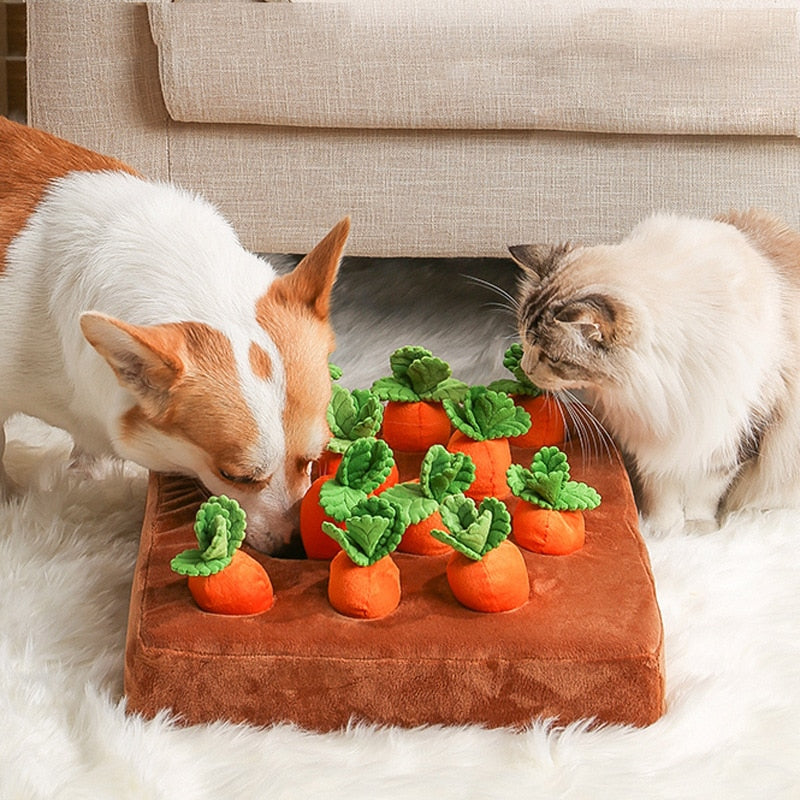 The Whimsical Carrot Plushie Dog Toy: A Playtime Essential for Pets and Families
When it comes to playtime, finding the perfect toy that captivates your pet's attention while engaging the entire family can be a challenge. Look no further than the Carrot Plushie Dog Toy, a delightful and interactive vegetable-inspired toy designed to bring joy and entertainment to both your furry friends and family members. In this article, we will delve into the exceptional features and benefits of this unique toy, highlighting its craftsmanship, comfort, interactive nature, and potential as a thoughtful gift.
Engaging Design for Imaginative Play:
Inspired by the playful shape of a carrot, the Carrot Plushie Dog Toy offers a whimsical twist to playtime. It's fun styling sparks imagination, allowing pets and family members to embark on creative adventures together. Whether it's a game of tug-of-war or a pretend hunt, this toy stimulates your pet's natural instincts, making playtime a thrilling and engaging experience.
Impeccable Craftsmanship for Durability:
Crafted with meticulous attention to detail, this toy showcases impeccable craftsmanship. Every seam is neatly sewn, ensuring a sturdy construction that can withstand rigorous play. The absence of excess threads and the non-slip design on the back of the mat provide added safety during enthusiastic play sessions. Rest assured, the Carrot Plushie Dog Toy is built to last, providing long-lasting enjoyment for your pet and family.
Optimal Comfort for Extended Play:
Your pet's comfort is of utmost importance, which is why the Carrot Plushie Dog Toy is thoughtfully designed with their well-being in mind. The outer layer features a high-quality crystal cotton soft fabric, offering a plush texture that your pet will love to snuggle and play with. Inside, the fully padded construction provides a cozy and cushioned experience, ensuring hours of uninterrupted playtime without compromising on comfort.
Fostering Interaction and Bonding:
In today's fast-paced world, quality time with loved ones, including our pets, is precious. The Carrot Plushie Dog Toy serves as a catalyst for fostering interaction and strengthening the bond between pets and family members. Engage in interactive play, initiate a friendly game of fetch, or simply enjoy moments of laughter together. Through shared playtime, you'll create cherished memories and deepen the connection with your pet.
A Thoughtful and Unique Gift Idea:
Searching for a remarkable gift for pet enthusiasts in your life? The Carrot Plushie Dog Toy is a standout choice. Its adorable design and enticing features make it a thoughtful and unique present for pet owners. Whether it's a birthday, holiday, or just an opportunity to show you care, this toy is sure to bring smiles and delight to both the recipient and their furry companion.
The Carrot Plushie Dog Toy is more than just a toy – it's a gateway to hours of joy, imaginative play, and bonding between pets and family members. Its captivating design, exceptional craftsmanship, and emphasis on comfort make it an ideal addition to any playtime routine. Treat your pet and family to the enchantment of the Carrot Plushie Dog Toy and embark on a delightful journey of shared happiness and connection.